The morning ritual: a deep sigh, hesitation, throwing open the blinds, temporary blindness, regret… lots of regret. Good morning.
This is how I typically start my morning during the summer months. The beaming warmth of the sun piercing my retinas is enough for me to have a love/hate relationship with the it. I love the sun and basking in every ounce of it, just not right away in the morning when I'm still in love with the dark. (The relationship is complicated, okay?)
This morning, I dramatically threw open my blinds and braced for impact. Except… there was nothing painful about it. The sun was hidden so deeply behind some slim thicc clouds that her rays weren't beaming like they normally do. This could only mean one thing:
Fall is coming and she's coming in HOT
The realization that summer is ending is always bittersweet. Bitter in that endless hours of playful shenanigans will no longer be tolerated, temperatures are about to take a dip, and our bodies are preparing for intense hibernation.
Fall, for me, sparks new beginnings. Every July I patiently wait for this time of year while I flip through magazines and hand select my favorite trends. (And then I step outside and get immediately blasted by hot air and the crave to wear thick sweaters instantly evaporates.) But the time for thick sweaters is NOW.
The first time I saw this sweater in store, I fell in looove. The balloon sleeves are a unique step up from the classic cardigan, while the bobble detailing takes these sleeves to the next level. This sweater would look great paired with jeans for day to day wear. Pair it with leggings, and you've got yourself the perfect cozy outfit while you sit and drown in the millions of papers, exams, and book reports you had to do 5 minutes ago. (Or that might just be me…)
I would be lying if I said I've never considered adding "sporting larger-than-life turtleneck sweaters" on my resumé. This wool sweater from Topshop is definitely on the top of my wish list. I love that the combination of the exaggerated turtleneck and the extra large sleeves make this sweater top-dog in comparison to other basics in your wardrobe. This is one sweater that I would absolutely LIVE IN.
Mmm I love a good relaxed fit on a denim pant. (My mother is rolling her eyes at that statement.) These jeans take a twist on the classic black denim pant by looking much cooler with that relaxed fit. Pair them with a sweater and you'll have that perfect cozy fall look. Pair them with a tighter tank and sick kicks and you'll have a great fit for a night out.
The theme for me is jeans (can't you tell?). These cords from Princess Polly take a nice spin on the classic cords with their high-waist and jean-like physique. These pants would quickly turn into a staple in any wardrobe as they can be paired with anything and we love that about them.
Typically, mixed metal jewelry is a super no for me without question, but these earrings break that subconscious rejection. These earrings are dainty enough that the mix of silver and gold isn't tacky but rather just plainly makes sense. These hoops are easy enough that they can be dressed up and take a new approach to your everyday earring.
Ugh, I'm such a sucker for all things Madewell. But honestly, this necklace is super unique and would look amazing layered with other gold necklaces. It would also look great on it's own! I'd pair this with a v-neck and some jeans to take a causal look just a hint higher.
I have been absolutely obsessed with these sneakers for YEARS now. (Ma, you can attest to this.) I've linked Nordstrom's website to these as they have a great selection otherwise you can check out the official website here. These sneaks take a classic look and add a designer touch. If I had a dollar for every pair of classic white high-top converse I saw on a daily basis, I could actually afford these. But truly, these are so cool and would definitely up anyone's street-style cred.
Cheetah print might be the "hot thang" at the moment but I have a feeling cow print is quickly on the rise. The chunky sole along with the calf hair print takes these boots to the next level. I'm already dreaming up all things I would wear with these. You absolutely cannot go wrong with a boot like these for the fall.
Oh boy, oh boy, I could go on forever about what looks I'm most looking forward to seeing this fall but I'll leave it at these for right now. I truly believe that it's important to find those things in your everyday life that take your confidence to the next level and make you just feel good and excited. For me, that's what I choose to wear each day. Never lose sight of what makes you happy and you do you!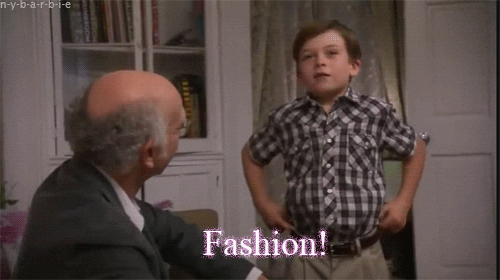 **All images have been taken from their respective websites which are each linked in the titles. I do not own any of these product images.**